As Rico is talking, I think, Oh I am SO glad I said yes to him running through this with me first!!
I've been doing my live storytelling show — True Stories Told Live Toronto — for 10 years. It's currently on 4-5 times a year, but there's one show in particular that I look forward to for months: the Halloween show, GHOST Stories Told Live (next one is this Monday!).
In true honesty, I mostly look forward to it for the two musical interludes — we do a Singalonga Ghostbusters' Theme Tune (easy, because that song basically only has 4 notes); then we sing along to the most famous song of whichever pop star I've dressed up as to host the show. The first year it was Bryan Adams (punching the air in unison with one audience member during the climax of Summer of '69 was an all-time life highlight). Subsequently, I've been Jon Bon Jovi, George Michael, The Beatles (all of them), Michael J Fox in Back To The Future (literally JUST so we could do a singalong to The Power Of Love) and Vanilla Ice. Then one year, I was Morten Harket from Norwegian band a-Ha, not realising that — unlike the 10 year illustrious career that they had in Europe — in North America they were one-hit-wonders and nobody knew that guy's name.*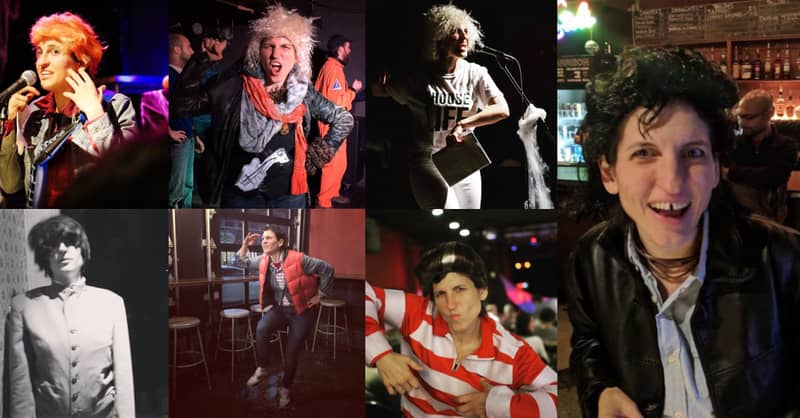 ANYWAY. The music is the exciting part for me, but the exciting part for everyone else is the GHOST STORIES. We have a mix of true stories and folk tales. This year (for the show that's happening this coming Monday), I'd already heard the true stories. One of them made me cry — not because it's especially moving, but because, for some reason, when I hear a very convincing true ghost story,crying is my physiological response. But Rico — whenever Rico tells at my halloween show, he almost always brings an awesome folk tale.
In the past, it's been one from his native Peru. But this time, he'd borrowed (with permission!) a story from another teller. I meet every storyteller before the show to coach them (or, in the case of experienced tellers like Rico, to workshop the story). When we met, he told me it was already written out, so I'd said, "Oh, maybe we didn't even need to meet?"
But he asked, "Shall I just go through it with you anyway?"
In the state he told it to me, it would have been a very nice, trad. little ghost story on paper. Something you could read to the kids in your life. But as he was speaking, I knew that, for the show, we needed to add in a LOT. Why?
Because the version he told me was scant on detail.
Details in storytelling are EVERYTHING.

For example: the first version of his story described a relationship.
"Ma and Pa Yarwood met when they were 12 years old, they were together for 50 years. For their wedding, Pa bought Ma a big, broad gold ring."
The ring comes back later, so it's an important detail. Otherwise, we've got the facts in there but… it's hard to care about these people. Right now, they're just sort of vague shapes of humans. So, we added:
"Ma and Pa Yarwood met when they were 12 years old, back when Ma was just called Mary. He used to ask to carry her books home from school and soon they were sweethearts. They went to prom together, and when Pa left school, he got a job in the auto factory, three towns over. He saved up all his money and, one day, got down on one knee and said, 'Mary, will you make me the happiest man alive?'
In his hand was a big, broad, gold ring."
Equally, we need detail once the action kicks in. There's a bad 'un in this story who shows up in their small town sometime after Pa has died and left Ma, now an old lady, a lot of money. At one point, the stranger breaks into Ma's house and they get into a fight. In the original version, that's pretty much it — "they get into a fight". Then (spoiler alert and comic book-style violence content warning) "Cyrus overpowers Ma Yarwood and kills her." Which means we're missing out on the opportunity to add something essential to any ghost story — and really, any compelling full narrative story:
TENSION.
When there's tension in a story, it floods the listener or reader's brain with oxytocin and dopamine. It makes us care. We're on the edge of our seat — What's gonna happen????
So how do you create tension?

By adding MORE DETAIL!
Rather "a fight breaks out", how about.
"Staring straight at Cyrus, Ma rises from the bed without breaking eye contact. Cyrus runs at her, but she ducks to the side and he misses. She picks up a candlestick and clonks him on the head. He's shaken and she starts to head towards the door — but suddenly, he grabs her from behind around the arms and chest."

As we were discussing this, I told Rico about the book of the movie The Princess Bride. In the movie, one of the best action scenes is the multi-level sword-fight between the man in black and Inigo Montoya. When I read the book, I assumed this passage would be boring. WRONG! It's one of the most exciting parts, because the level of DETAIL keeps you gripped!
So, these are two essential components to any great ghost story:


DETAIL and TENSION.
And you can't have the second without the first.
One clarifying tip and the third component: How do you know how much detail to put in?

Make sure each detail has a job.
For example, from the Ma and Pa origin story, the sentences "he carried her books" [when they were 12], and "they went to prom together" tell you they were sweethearts throughout school. We could have talked more about how the young Ma and Pa Yarwood spent their days together — but it wouldn't add anything that those two sentences don't already convey.
The great thing about these rules? They don't just apply to ghost stories!
If you're telling stories in presentations or as part of your work, make sure they contain detail and tension.

And make sure every detail has a job.
If you work at an organisation that wants to get better at compelling and persuasive communication, use these tips! And if you'd like some more comprehensive support around that — I'd love to help. Book yourself in for a free (no obligation) call, here: yesyesmarsha.com/call
Thanks so much for reading! If you know anyone who could use help telling ghost — or any — stories, you can share this with them using one of the round buttons below. Got a favourite scary story you want to share? Let me know in the comments below!
You rule,
xx (Yes Yes) Marsha
PS Want storytelling tips like this directly into your inbox AND my free guide to the magic bullet for captivating storytelling? Come and join the Yes Yes Family — it's FREE! Just pop your details in below and I'll ship it over*:
*you can unsubscribe whenever you like because, clearly, I am not the boss of you
*I've always dressed as dudes so far because the women/NB's of the pop world just aren't… silly. Or they're like INTENTIONALLY silly and therefore cool, like Cyndi Lauper or Gaga or Sam Smith. Though this is making me think I should do Spice Girls next year..